WE LOVE DOGS
Seriously, we frickin' love 'em!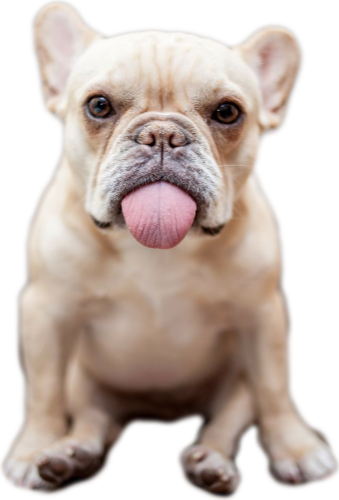 We know that having a dog in your life is a big responsibility. Our in house dog Rose has been our constant companion for the last 15 years. So we know that leaving your dog with someone else is a big responsibility, which we take very seriously. We are fully insured and adhere to all the government laws in relation to looking after your dog.
But let's not take all the fun out of it, we have a specially designed space for the dogs, with lots of different dogs beds, sofas, baskets and hide outs, we have a chill out space if your dog wants to be left alone with a comfy blanket and toys. We have our now famous ball pit which the dogs love to play in or at times even sleep in, we have hanging tug toys and a huge basket filled with lots of different toys, from stuffed to cognitive. We do not crate dogs and unlike some other daycare's we spend all our time with the dogs, playing with them, sitting with them or more likely them sitting on us. We treat the dogs as if they are at home, the space is as much their space as ours. They are all allowed to move freely around the space.
We also take the dogs out to an array of different places each day, we do not drive them somewhere and let them out. We walk them to where they are going, so they get to learn road skills as well as having fun in the woods and parks. We know that it is very important for your dog to be engaged with, socialised and taken to as many differing places as possible.
We can help you with your new puppy, teaching them basic skills they need like sit and stay. We help to teach them how to play with dogs of all differing breeds and ages, that way they get the skills of socialisation which is very important for the rest of their lives.
We also work with rescues with more specific needs, like separation anxiety, fear of other dogs, teaching them road safety, or helping them get over phobias that they have got along their journey. As we said we have our in house dog Rose who is 15 so we also tailor ourselves to older dogs who we know have different needs and varying exercise requirements.
We limit ourselves to a small select amount of dogs each day, as we want the dogs to be able to relax and have fun and not be bundled into a room with loads of others dogs for the whole day.
We truly love dogs and try to tailor the experience at our daycare to each dogs individual needs.
We welcome anyone who wants to book their dog in for daycare to come in and see the space and talk to us, as we know that you want your dog to be cared for safely, kindly and have fun when you are away from them.
We know that leaving your dog alone at home can be stressful for both you and your dog, thats why our doggy daycare, is the perfect fit for you. Your dog will come home happy, content and tired.
At our daycare, we offer your dog to have a safe space away from home, we do not crate any dogs and none of the dog are ever left alone. We have created a space that's a home away from home for your dog. They have lots of different beds, teepees, large dogs beds, smaller ones, hide out spaces, sofas, ball pits and climbing frames. We have any array of toys, from cognitive to natural antlers to clean the dogs teeth. We allow the dogs to use the space freely, for them to feel safe and happy when they are away from home.
As we are in the space with the dogs gives us the ability to truly bond with the dogs, limit any negative behaviour, we do not allow any of the dogs to bully or hassle each other. It is a safe space where the dogs get to play, have fun, create bonds with any array of other dogs of differing breeds, genders and ages. We find this helps the dogs to be well adjusted when they are out in the real world, it gives them a good grounding.
Each day the dogs are welcomed into the space, given breakfast if requested (in a secure environment away from the other dogs but supervised) where the dogs are engaged with and played with, with toys, with scent games, with gentle training and trick training. Then they are taken by foot (unlike lots of other daycares we never put the dogs in a vans or cars) we think it is important to walk the dogs to an array of different areas, this gives us the chance to teach them road safety, to give them lots of positive exposure to an array of sounds, smells and environments (limiting future phobias or difficult behaviour). The areas we take them to differ each day of the week, so they do not get bored. From Waterlow Park in Highgate, to Queens ancient woodland to Alexandra Palace. This is important in really engaging the dogs, putting them in different spaces and areas in a positive setting.
Dogs are then left to sleep and rest or play, we have a chill out space for dogs that really want to relax undisturbed, or for puppies to have a good sleep (this space has a bed, water bowl, toys and are supervised). The dogs are then taken out every 2 hours for a toilet break.
With prior approval will give an array of treats from fresh vegetables and watermelon to gravy bones or dried sweet potato, our aim really is give the dogs as much comfort, fun and safety as possible when away from you..
In the space we look after an array of ages, from puppies, to elderly dogs and lots of different breeds. We find this to be beneficial to the dogs as they get to learn, play and interact with such an array that it limits them become phobic of different breeds and learn how to play with older dogs (or give them some space and respect that) puppies get to learn from other dogs in the space, as well as being guided by members of staff to limit negative behaviour that if left could become an issue.
We are registered with an Animal Licence, we are fully insured and trained in Animal First Aid. We look after dogs that have health issues and can administer medication or dietary requirements.
Full Day of Daycare
From 9am to 6:30pm (we can open earlier on request)
With hours of fun with the other dogs, naps, playtime and an hour and half walk to lots of different beautiful locations. All the dogs we walk have tracking devices to keep them safe and sound.
£37.50 for the day
Half Day of Daycare
From 9am- 2pm or 2pm- 6:30pm.
With hours of fun with the other dogs, naps, playtime and a forty five minute walk to lots of different beautiful locations. All the dogs we walk have tracking devices to keep them safe and sound.
£27.50 for the day
We are aware that sometimes life gets in the way of timetables, so if you need to drop your dog off earlier or pick them up later, we are more then happy to accommodate you, just give us a call to discuss this.
We are completely flexible with dog walking times just call or email to book a time that suits you best.
One-to-one 1 hour dog walk
This walk will be just your dog and a professional dog walker your dog will be taken to an array of different beautiful locations. All the dogs we walk have tracking devices to keep them safe and sound.
£22.50
Group 1 hour dog walk
Your dog will be taken with other dogs to an array of different beautiful locations by a professional dog walker. All the dogs we walk have tracking devices to keep them safe and sound.
£17.50
We offer discounts on group bookings. We also offer out of hours dog walking, just give us a call or email to discuss you and your dogs needs.
All our professional Dog Walkers are fully insured.
Please note: We are currently fully booked but you can register to be put on our waiting list.
We are sorry we are fully booked for all walks and daycare but check out friend of the shop Jan Roberts.
Jane has been caring for dogs for 15 years, she offers walking and daycare locally (N8). We love her and your dogs will as well. Please email her for enquiries. jan39roberts@talktalk.net
Shop Dog, 22 Veryan Court, Park Road, Crouch End N8 8JR
"I cannot recommend Shopdog N8 enough."

I adopted my little staffy cross, Bill, nearly a year ago now. I was totally overwhelmed and desperately needed help and guidance with training him (and me!) and also generally adjusting to being a dog owner. 

 

Bill had not had any training with his previous family and was seriously hard work. A lot of love, not a lot of rules! He knew how to sit (sort of) and that was about it. He was struggling with separation anxiety and making all sorts of trouble on his walks, pulling me all over the place, wanting to go wherever he decided, rushing up to say hello to ALL the dogs he passed, and even picking on some of the dogs who were usually bigger than him. His recall wasn't great and he generally just did whatever he wanted. 

 

When I came across Amelia and Atilia I couldn't have found a better pair to help me and Bill out. 

 

The way Atilia trained Bill, was to train me twice as much! Not only did he teach Bill but he simultaneously taught me so I could keep it up - it was up to me to make sure that what we were doing in our training classes was continued in between sessions. 

 

Atilia helped me to understand the basics of dog training, how to set boundaries, how to see and understand different types of doggy behaviour to avoid unnecessary scraps and see when 'playing' might be getting out of hand, how to manage Bill's anxiety and loads on how to try to re-train Bill to unlearn some of his bad habits - namely pulling badly on the lead. 

 

And now, Bill's behaviour means he is a TOTAL delight to have around. I really couldn't have done it without Amelia and Atilia's help. Also, it's so brilliant that they do discounted prices for rescues. Because they don't want to see a rehomed dog go back into a shelter. 

 

Although I've stopped Bill's training classes, for now, I still use their daycare. I love knowing that if I need someone to have him for the day, Amelia and Atilia will take amazingly good care of him because THEY BLOODY LOVE DOGS!! They spoil them rotten but also keep them in check. What's not to love. 

 

I wish I could send Bill to them all the time, but now everyone that Bill meets wants to take care of him when I'm stuck. Thanks guys! 

"I can enjoy my dog so much more"

When I chose a boxer as my first dog, I wasn't aware of how demanding they can be. Not the easiest breed to train. My luck changed when I met Attila.

In only a few weeks Attila has managed to change my boy's behaviour and teach him good manners and the basic commands. Thanks to Attila I can enjoy my dog so much more.

I am very pleased with Attila's services both as a trainer and as a walker and would recommend him to anyone especially to those with large dogs and judging by how exited he is when

Attila shows up at the door, I know my dog enjoys him too.

"It's been amazing the turn around, in such a short period of time"

Atilla came highly recommended and at a reasonable rate by other dog owners in Ally Pally.

What really appealed to me was the fact he actually trained my dog - Red, by taking him out for at least an hour and also training me with Red.

Red, had originally been a chilled out, sociable dog until I had an accident and was laid up with a broken pelvis for months. In this time Red began to feel anxious and started to attack dogs and sometimes even people. I started to dread walking him, and would have to avoid other dogs, I became very anxious too.

Atilia has taught Red to listen and has put boundaries in place so now Red feels safe and not anxious and more importantly he knows who is boss! He has stopped attacking other dogs and people. It's been amazing the turn around, in such a short period of time.

I have confidence now when taking Red out for walks and letting him off his lead.

I would strongly recommend Atilla.

Thank you for giving me my old dog back.

"By the time he finished Brody was a different dog"

Atilla worked with my blue staff Brody over one year. He was very out of control at the time that I pulled in Atilla's help.  By the time he finished Brody was a different dog. He comes when you call him, heals when he's walked and even does some tricks!

I also referred him to a couple of friends who were experiencing different problems with their dogs who were also very pleased with his work.

I would have no hesitation in recommending Atilla for any kind of dog training.

ShopDog are absolutely brilliant and I can't recommend them enough!

Amelia and Atila are a rare blend of professional, knowledgable and dedicated - more than that, they both genuinely love dogs!  Unlike some dog walkers/dog carers, Amelia has her own dog and relates absolutely to the concerns and challenges of making and keeping them happy.

 

My spirited Golden Retriver x Labrador, Milo was pulling on the lead, misbehaving and prone to an upset stomach (meaning lots of expensive trips to the vet) - in summary - he was extremely hard work!  Since being in day care with Amelia, he's a calmer, happier dog; and following training with Atila he doesn't pull on the lead like a freight train!  More than that, Amelia and Atila are dedicated to what they do, and genuinely love dogs: they've both got a wealth of knowledge and have tutored me and shown me how to care for Milo, and even trained him tricks!  

Shopdog has supported me so much in raising Milo and because they care for him and love him as much as I do, I have absolute peace of mind that Milo is in expert hands whilst I am away at work - plus I have an invaluable resource of knowledge and skill to support me in developing and training him.  ShopDog are absolutely brilliant and I can't recommend them enough!

The service has been hugely flexible, which has made life much easier for me during hard times

Having adopted my dog (Luci) in difficult circumstances I was apprehensive about sending her to a daycare and wanted somewhere small where she could experience a nurturing environment and receive a lot of one-on-one attention. She was only four months old at the time.

I feel very lucky to have found Shop Dog. Amelia and Attila immediately inspired my confidence and have been able to give Luci firm boundaries (which as a large breed, she needs) and also a lot of love.

 

Luci is always extremely happy to see any of her carers at Shop Dog and always comes home very tired and calm.

 

I live just around the corner and sometimes pop into the shop during the day; it really feels like a home environment where dogs are happily co-existing in a living-room type setting (in between activities). The service has been hugely flexible, which has made life much easier for me during hard times.

 

Amelia and Attila have helped me enormously in bringing up Luci. As a result she is extremely well socialised with dogs of all sizes and ages and is totally nonreactive to other dogs. I have complete confidence in them both, which gives me peace of mind and Luci could not be happier to leave with either of them each day. She actually almost looks disappointed when I come to pick her up! 

Shop Dog N8 really love dogs and their work ethic is top notch!

I can only sing praises as a customer. I am so happy with the service and Atilia has done such a great job with teaching my dog manners!:) If you are looking for dog walking, dog day care or one 2 one training. I could not recommend them enough. Amelia and Atilia at Shop Dog N8 really love dogs and their work ethic is top notch! Thank you I can only wish other businesses were as reliable, warm and professional, but we all know this is rare.

"A wonderful, friendly and dependable team of dog loving walkers"

For over a year now Shop Dog N8 have been walking our pointers. Both dogs have very different needs - an elderly 14 year old who craves attention and a wild and energetic 5 year old. Amazingly, the team manage the dogs' needs just as we do as owners showing the love and attention these highly intelligent dogs need. Couldn't recommend highly enough and have never had a single complaint.

Amelia & Atila have been calm, patient and professional in all ways

When Oti arrived after a 4 day bus trip from Romania, I'm not sure which one of us was more shocked!
Our household was quickly turned upside down and, by the end of our first week, we were sitting at dog training classes. After these finished, Shop Dog N8 came to my rescue to help Oti socialise and learn to play with dogs and trust people.
Amelia & Atila have been calm, patient and professional in all ways. Oti quickly figured how this all worked and by her 3rd visit she was leaping to get in which was great.
Oti has made her way from a nervous wreck to a Crouch End gal who knows she's loved and belongs.
Amelia secretly knows she's Oti's other mum and quietly enjoys her well earned special status.
Book your space quickly as every other dog owner will sniff this out soon!

Impossible to rate ShopDog highly enough!

It is truly a second home for our Molly, and the care, love and attention she receives is a source of great comfort to us whenever life gets in the way of spending time with her. Their flexibility, professionalism and passion for dogs is a joy to behold, and they're such good value for money! Wouldn't even consider going anywhere else. Thank you ShopDog!

 

My nutty terrier absolutely LOVES going there

I have been sending my dog to ShopDog for over a year now (since he was just 3 months old) and it has been completely brilliant for him and for me in so many ways.
My nutty terrier absolutely LOVES going there - pulls me there, panting with excitement. Being surrounded by other dogs from such a young age has been really beneficial for his socialisation; he's happy and confident to meet other dogs (and their owners) in the woods and out walking and has learned lots of his doggy know-how from the older dogs there. The dogs are always so well managed. They are walked in the parks and woods a couple of times in the day but only with small groups of dogs with similar needs (never a gaggle of tangled leads like you often see with dog walkers) and there's always lots of play and fun to be had when they are back at the shop. Always new toys, stimulating training and frolics going on, or a choice of groovy, comfy beds to conk out on. I know that my dog will have had lots of fun, been well exercised, well stimulated and most importantly really well cared for and loved when I pick him up at the end of the day. He's always so happy and relaxed afterwards.
The set up is great - it meets all of my needs - but the most important thing about ShopDog, for me, is the above-and-beyondness (not that that's a word!) Amelia and Atilia are just such lovely people; always so accommodating (to changes in arrangements and extra needs) always so helpful, always good for a chat and always so loving towards the dogs.  I love the fact that they look out for my kids (who drop the dog off before school) that they will have my dog for a sleep-over if I am out for the evening and can't pick up (and send me silly photos of what he's doing, so I know he's having a brilliant time) that I can turn up and mention some little issue I'm having with my dog's behaviour and they will not only advise, but do some work with him to put things right and (not that the dogs fully appreciate it) that they have such kookie decor - it's a very happy place!
I have recommended ShopDog to lots of other dog owners - couldn't ask for better care for my cheeky puppy! ShopDog N8 is fab!

I can drop Paris off and be 100% certain he is safe and having the time of his life

ShopDogN8 is an amazing doggy day care run by wonderfully kind and experienced people, I am so glad I found them! My pup (Paris) is a rescue and I was worried about him developing separation anxiety and not having enough interaction with other dogs. I spoke to Amelia and booked him in for a few hours at first. On his first day Paris was nervous about going in, by our second visit he was jumping around with excitement to see Amelia and Atilia and his new found dog pack - it's been the same ever since. Amelia and Atilia take such amazing care of the dogs and take the time to get to know them and make sure they have fun. I can drop Paris off and be 100% certain he is safe and having the time of his life, and by the time I pick him up he's exhausted from all the playing. They've always been on hand to offer extra advice about dog training etc... and go above and beyond to help. Your dog will love them and I highly recommend!

Ralph always comes home tired and happy

Shop Dog have been looking after our dog Ralph for over a year now both for regular walks and for day care.

They have been fantastic with him and you can tell how much he loves them whenever he sees them.  Ralph always comes home tired and happy after some time with his Shop Dog pack.

We recently had our first human child and Amelia & Attila could not have been more helpful when we had to call on them to help us out a bit more than usual for the first few weeks.

We couldn't recommend them more.

My only negative is that Alfie loves it a bit too much!

Starting Alfie at Shop Dog N8 as a puppy was one of the best decisions we made as new dog owners. 

Alfie absolutely adores Amelia and Atilia. It's the only place where we feel completely at ease that he will be looked after and know that he is truly having the best time. 

Amelia and Attila are lovely people and are always super professional and flexible.

My only negative is that Alfie loves it a bit too much! He will drag us to the shop and be in a strop when we walk him home. I don't think you could ask for a truer testament to how great the place is. 

After his first session he greeted a non family member for the first time without fear

Shop Dog is the Dog's Bollocks - doggy day care at its most eccentric coupled with actual behavioural expertise and a true love for the nations favourite pet. 

 

My dog Kenzo is a rescue who started life feral in the mountains and then the pound before arriving in planet London very confused and scared. Amelia and Attila took him when others refused and it's no lie to say after his first session he greeted a non family member for the first time without fear. He has grown in confidence ever since [sidenote: Amelia did feed him sausages from the cafe]. 

 

If Shop Dog was a cheese it would be something young, fresh, tasty and nutritious that would leave you wanting more - I mention cheese because they nearly opened a cheese shop once, but that's another story...